As you may know – "Where Bloggers Live" is a group of ladies from around the country who post about their homes (inside and out), towns, and generally their lives.  Be sure to check their links below to read about some of their childhoods…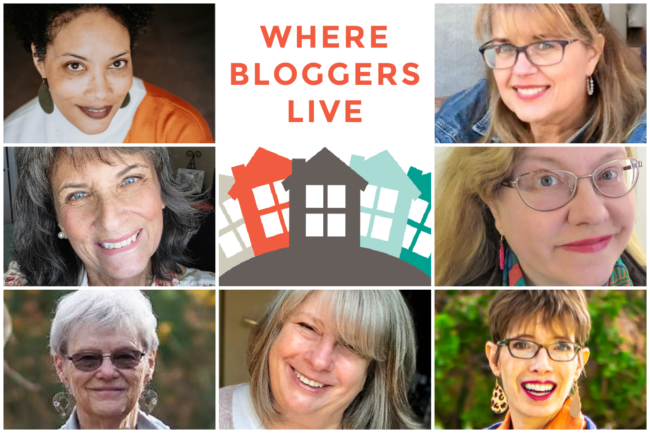 Well, I'm the oldest of the group and my main childhood memories that I'm sharing here are during WWII, roughly between 1943 and 1946.  Remember, cameras weren't around so much back then, so pictures were few.
We were living in Columbiana, Alabama when my Dad was drafted into the service.  He wound up in the Navy and served on a cargo ship.  My mother and I moved back to Guntersville to live with my Grandparents.  They're home was out in the country.  We did have electricity 🙂  but there was no phone and no indoor plumbing.
I vividly remember the day my Daddy left.  There was a "parade" down main street with all the draftees with families standing on the sideline watching them board buses.  I was NOT a happy camper.  I was a Daddy's girl and he was leaving!
There was very little communication with him the entire time he was gone.    It was only by mail and took a long time to travel, or if it was urgent – telegraph.
Don't have other pictures during that time but thankfully he came home when the war ended.  Between both sides of the family I had 7 uncles plus my Dad who fought in WWII and all of them returned home.  That is definitely a Praise report.
A little story that's also etched in my memory.  My mother and I always walked down to the mail box to get the day's mail (pretty long walk).  If there was correspondence from my Dad she opened it before we got back to the house.  This one day there was a small package.  We sent him stuff all the time, but this was different.  So, we stopped at the sidewalk (yes, we were in the country, yes we had a sidewalk) that had a little concrete ledge along it) and sat down on the ledge to open the package.  Inside were 4 gifts.  A cigarette lighter for my grandfather, a pretty pin for my grandmother, a pretty little pin for me, AND a diamond engagement ring and wedding band for my mother.  She, of course, lost it and I couldn't figure out why she was crying.  So, my comment to her was, "But Mommy, why are you crying, Daddy sent you a present too.
All of the items were purchased and sent from Pearl Harbor.  I was so happy to visit Pearl Harbor a number of years go.
But, what really makes me happy now is that one of my granddaughter-in-laws is currently wearing the rings.
I could go on and on, I have many more memories but I don't want to overload you.  I was an only child, and probably spoiled just a little – but all 4 of my grandparents and my own parents made sure I grew up learning to be a lady and behaving like on.
Now, be sure to visit my friends posts:
Bettye at Fashion Schlub
Daenel at Living Outside the Stacks
Iris at Iris Originals Ramblings
Jodie at Jodie's Touch of Style
Sally at Within a World of My Own