As you may know – "Where Bloggers Live" is a group of ladies from around the country who post about their homes (inside and out), towns, and generally their lives.  Be sure to check their links below to read about some of their childhoods…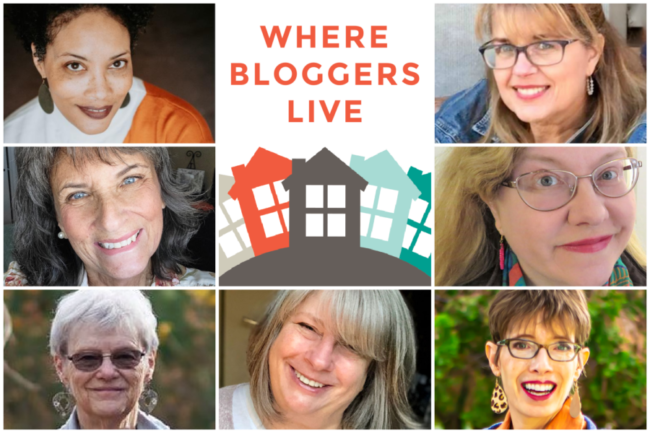 This month is favorite jewelry – which is only difficult for me because I have a LOT of favorites.  My mother managed a jewelry store when I was growing up so I spent a LOT of time there.  I learned to appreciate diamonds and gold jewelry – but I love costume jewelry and have lots.  And, of course I have a 'herd' of elephants.  Who knew there could be so much elephant jewelry.
Remember I'm old – jewelry has always been a fairly easy gift from family and friends , sooo there's quite a bit.  I've worked on sorting recently.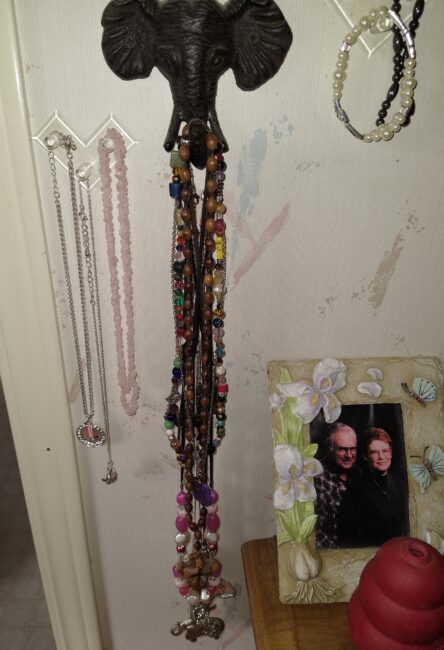 Saw a chart in one of my very old cross stitch magazines and thought that it would be a great place to hang my long ear-rings that have become so popular.  It's right next to my dresser and just over the elephant hanger.
The next ones are some that are really close to my heart.
You understand I could fill a book with my jewelry but I think it's time you checked some of my blogging buddies for their take on this month's "Where Bloggers Live".
Bettye at Fashion Schlub
Daenel at Living Outside the Stacks
Em at Dust and Doghair
Iris at Iris Originals Ramblings
Jodie at Jodie's Touch of Style
Leslie at Once Upon a Time and Happily Ever After
Sally at Within a World of My Own